We've covered what protein is and how to tell if your hair is in need for some TLC. Now for the fun part! Here's how to properly add protein to your hair.
THE NATURAL ROUTE:
Mother Nature has everything we need to take care of ourselves, which is why our bodies and minds respond so well to natural ingredients and products. I mean, how else did our ancestors get by? When it comes to strengthening hair treatments, there are lots of great ayurvedic herbs you can add to your routine.
HENNA
This ayurvedic herb is absolutely perfect for adding strength and protection to the hair. It fills in gaps in the hair cuticle, providing a solid, more stable layer. It comes from the Lawsonia inermis plant, found in India, Africa, and the Middle East.
Henna is great at adding shine to the hair and has anti-fungal properties to help with dry and itchy scalp.
The leaves of the henna plant contain a red-orange dye agent, so using henna can change your hair color over time. It can be pretty subtle or an obvious change, and some don't notice a change at all. Definitely, consider this before using henna in your hair. Henna is super strong and clings to the hair shaft, making it super difficult (if not impossible) to lift out of your hair. This is something to think about if you're considering bleaching or dying your hair.
The best way to start out with henna is by making a gloss. Since henna is incredibly strengthening, going in with henna alone can be sort of drying. The Curly Proverbz x Belle Bar Henna Hair Gloss Mask is the perfect introduction to this super herb. It's got henna for immense strength, marshmallow root to prevent breakage, avocado oil for hydration and more! Mix 1-3 teaspoons of this powder with your favorite deep conditioner, or, for #BeastMode results add the powder to a fresh ingredient, like a banana or avocado. *Our glosses are extremely balanced and the amount of henna/cassia leaves very little if any color deposits.
As a reference, check out three different ways you can use henna glosses!
And definitely peep how Amber Ansah includes henna to create a DIY  protein treatment!
CASSIA:
Like henna, cassia is amazing at filling gaps in the hair and adding incredible strength and structure. It comes from the leaves of the cassia obovata plant, which is grown in East Africa and India.
Cassia also softens and conditions the hair, making it nice and smooth. It's a great treatment to incorporate your routine. If you have blonde or grey hair, this herb can stain your hair yellow, so that's something to consider!
If you like DIYs, check out this cassia recipe. Like henna, it's recommended to add cassia powder to a deep conditioner of your choice. CASSIA STRENGTHENING HAIR GLOSS is the way to go. Cassia, marshmallow root, avocado oil, maca root and more make this gloss beginner friendly and super nourishing. *Our glosses are extremely balanced and the amount of henna/cassia leaves very little if any color deposits.
ANOTHER OPTION
While creating your own quick mix is ideal–knowing exactly what is going into your hair and the quality of ingredients gives you peace of mind–there are some great store-bought protein treatment options for those days when mixing your own won't work. Be sure to pay close attention to the ingredients and instructions labeled, you don't want to cause more harm than good.
REMEMBER 
When the hair is too strong without adequate moisture, it can break. To avoid this situation, refrain from adding protein to your weekly routine when starting out. Try alternating strengthening glosses and moisturizing treatments throughout the month to make sure everything is in perfect balance. If you're going in with pure henna or cassia mix, rather than a gloss, stick to once a month.
ONE LAST THING.  LOL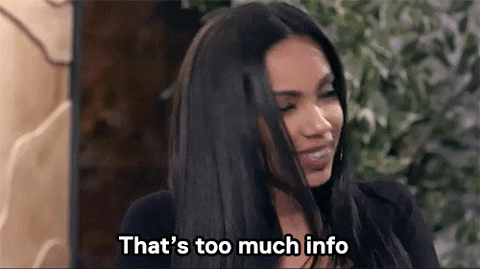 We've covered proteins and why they're good for your hair, but what protein sensitivity? While hair strands are made up of proteins, some hair types don't respond well to frequently adding proteins to the hair. Other than actual protein treatments, there are styling and moisturizing products with proteins in them, and for some, this can cause irritation.
If your hair seems hard, crunchy and brittle after a protein treatment or using products with proteins in them, you might be protein sensitive or have protein overload. Before making any hasty decisions, do a strand test! As we've covered, you must, must, must balance out any type of additional protein to the hair with moisture–it's key. So, take a small section of hair and add the protein-based product of your choice, and let dry. It's completely normal for protein to make the hair a bit harder or stiff, but if you find that your hair is super brittle and breaking, you're protein sensitive.
This isn't anything to worry about, you can totally still strengthen your hair. Moderation will be your best friend. Try only doing a protein treatment once every 4-6 weeks, and always follow up with a moisturizing deep conditioner. This way, you get to strengthen your hair every once in a while without causing further damage. Best of both worlds!